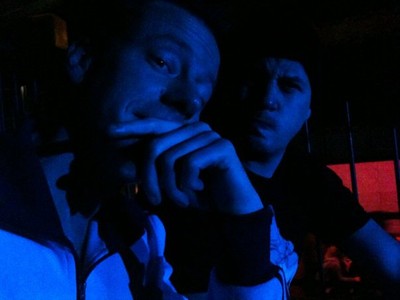 SPD in "Ups and Downs at Izzy's"

wobbling between a rock,
some papers and a hard place
filled with stalwart scissorheads

total runtime 01:04:20
bitrate 320 kbps
size 147 MB
style..!?

A little (p)reminder:
SPD = Single Personality Disorder = a (con)temporary telepathic state, shared among two or more people, in which the ego-centered perception of the involved individuals breaks down and makes way for a collective consciousness, perceived as protruded by one being. In this particular case, SPD = DJ.Azepam + Satyr Barbarossa.

This mix was executed during a surprise attack on K3 in Amsterdam on December 21, 2011. As mentioned before, DJ.Azepam and I were surfing out there somewhere inbetween dubstep, nippongabba, thrillhouse and freakbeats, beyond our (un)usual Chill Fout melange-a-deux. As for a tracklist... well, some or most of the artists mashed into this mix are: A.Skillz, Bassnectar, Bill Cosby, Chemical Brothers, Hirshee, Justice, Global Communications, Kelis, Marlena Shaw, Metallica, Pendulum, Noisia, Pink Floyd, Pretty Lights, The Beatles, Ticon and ...
Yo Mamma Inna Blendah. Gewoon lekker. *

click here to download SPD in "Ups and Downs at Izzy's"


"Ups and Downs at Izzy's" - first half on Soundcloud

click here to visit SPD on Soundcloud
click here to hear DJ.Azepam on Soundcloud
click here for more SPD amongst the Satyr Satellites

* Dis:claimed
Due to the spontaneous character of a surprise appearance, certain information may never be retraced or retrieved beyond a certain degree of detail. The management shall not be held liable for any number of quanta lost before, during and after the transition from voidular possibility into humaniversal existence, including zero.

follow this link to a previous mix: Willy's Wobblebot Factory


☉

.: share & enjoy :.